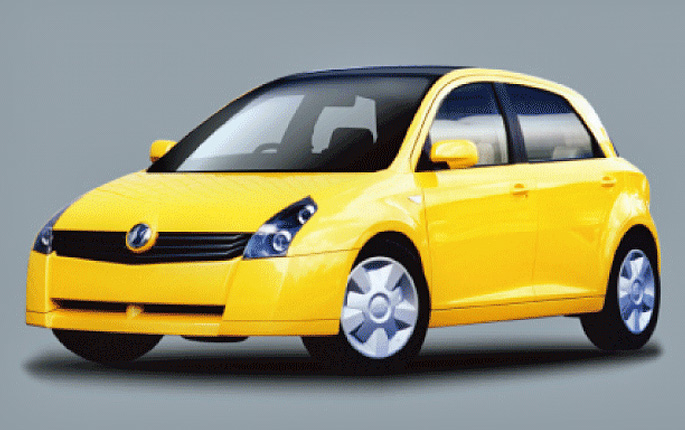 Feature of exterior "image of driiving"
To emphasis the image of sports feeling, in other words, agile driving, we focused on expression of mass feeling as a whole and the feeling of stir of 4 wheels. The composition/expression of surface with sharpness and graciousness theme is based on wedge shaped use positive and negative surfase properly, engender the volume and the sense of tension. Pay attention to the feeling of volume which is made by the negative surfase.
It shows the strength of the fender flares, and emphasis the driving image of "GENOS".
The front mask is divided vertically by the lines on fenders, clearly expresses this car's theme "graciousness". This front shape has aerodynamic benefits such as improvent of stability straight, and high hood makes enough clushable area.
It will reduce the damage of pedestrians when the accidents.
Glass roof connected from front glass is a new style and different from full glass cabin or typical sunroof. It shows strength of body stiffness, light feeling and driving pleasure.
It goes without saying the glass roof makes interior light and airy.
Feature of interior "like cut the bamboo"
It is the word to express the graciouseness in Japan. Organic design was manistream for car interior design with the technology of integrally molded plastic.
But soft design is not always comfortable and kind to people.
Neat and gracefuly design based on linear, soothe the human mind, and it can be expected to effect of encourage calm judgement. It would be useful for safe driving.
Momentum of fender line which is character of exterior, goes through the interior.
Elements of the interior are constructed on the basic skeleton using architectual techniques.
All elements are designed with combination of the neat lines/surfaces and geometric shapes. The contrast between materials is actively used as design intent.
White and black color scheme express this intent strongly.