Engineering & CAD Service
Valued engineering service. Strong support for design and product developments.
From design development to the designing of mass-produced products.
Engineering services resopoding to various needs.
Engineering Designing
・Product Design
・Checking Fixture Designing
・Fixture Designing
・Prototype Press Die Designing
・Model Designing
・Cubing model Designing
・Forming Designing
Engineering Service
・Measurement Date Layout Machine
・Surface Data
・NC Data
・Scanning Data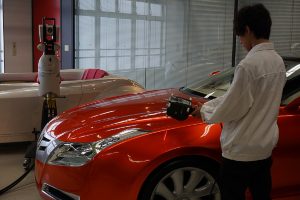 The fully capable Engineering & CAD Department is what SIVAX is proved to be a comprehensive design development support company.
SIVAX's Engineering & CAD service Department respond to a wide range of needs from design support on design development to mass-produced product design, utilizing CATIA, CAD-CEUS, ICEM-SURF, SURFACER, UNIGRAPFICS.
To cater to various needs, we are fully equipped with IGES, JAMA-IGES formats as the interfaces for different CAD systems, and provide a variety of engineering services such as creation of plane data and NC processing programs.