Design Modeling
Sensibility, skills and technology, A world class design modeling team.
3-D construction from an image. High-definition model manufacturing through design sensibility and skillful technique.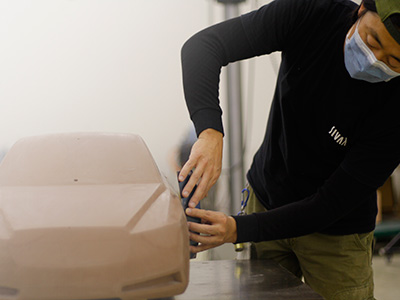 ・Exterior / Interior Clay Model
・Exterior / Interior Mock-upModel
・Concept Models / Show Car
・Running Prototype
・Scale Model
・Comfort Check Model
・CAD Data Check Model
・Exhibition Model
SIVAX's Design Modeling Department is composed of the Clay Work section, which performs modeling, and the Outfitting Craft Work section, which recreates full scale models using various materials.
The Design Modeling Department is fully capable of producing a wide range of models from interior and exterior mock-ups to working prototypes.
The senses and skills of a modeler critically affect the finished product and craftsmanship of a design model.
SIVAX's Design Modeling Department has produced a great number of high quality models with the superb sense and skills of our experienced modelers.
The Design Modeling Department closely works with the Engineering Department in a quick and flexible manner, at the same time always striving for accurate and creative model production.
Facilities
Various equipment available at SIVAX strongly supports the modeling creative process.